There are certain moments in history that we all will never forget. Things like the Twin Towers going down, Michael Jordan hitting the game-winning shot against the Jazz in Game 6, the moon landing, or the "Miracle on Ice." For me, however, it seems like the majority of the images that are burned into my memory are from the world of professional wrestling (not surprising, I know). There have been so many great images in wrestling history that this will in no way be the only article I dedicate to these beautiful moments in time. With that said, let's get started
"The Irresistible Force Meets The Immovable Object"
If you're roughly my age and grew up as a wrestling fan, this image needs no explanation. Two legends meeting in the ring in the main event of WrestleMania in front of a sold out crowd at the Pontiac Silverdome. In one corner, you have the Hulkster, who at the time (and still today) was one of the most recognizable faces on the planet. Charisma that can't be matched, the bleached-blonde hair and mustache, the trademark yellow trunks, Hulk Hogan was the man.
In the other corner stands the largest and most well-respected professional wrestler of all-time: Andre the Giant, managed by the most diabolical of men, Bobby "The Brain" Heenan. Some would argue that the image of Hogan slamming Andre would be a better image, but if there's anything I love in wrestling, it's a good stare down.
A Star is Born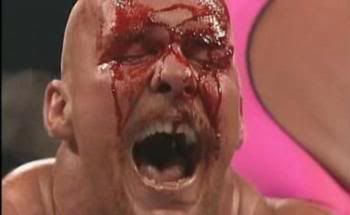 You may think that "Stone Cold" Steve Austin became a star when he defeated Jake "The Snake" Roberts at the 1996 King of the Ring, where he coined his "Austin 3:16" catchphrase. But for my money, I would say Austin became a true superstar during his match with Bret Hart at WrestleMania 13. I remember watching this live on pay-per-view at the age of 11 with my eyes wide and my jaw on the floor. This is my earliest recollection of seeing that amount of blood in a wrestling match. I was rooting for Bret in the match, and even though he did wind up winning, his victory was secondary to the fact that Austin refused to give up. Seeing the blood dripping from his face, down the front of his teeth, and onto the mat in one I'll never forget.
Best. Entrance. Ever.
I've always been attracted to "dark" things. Things like metal music, horror films, etc. So it's no wonder to me why I've always been awestruck by the Undertaker. In my opinion, he's the greatest of all-time, it's not even a contest. The Deadman's undefeated streak at WrestleMania is always the biggest attraction of the show these days, and every year they try to make his entrance bigger and better, but in my opinion, nothing can match the first time they brought out the druids and torches for his first ever encounter with his brother, Kane.
Celebrating Life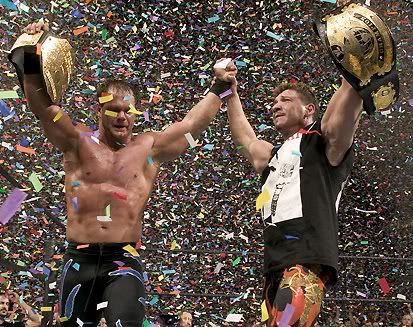 This will probably go down in history as the saddest image in wrestling history. If you're reading this, then you're probably a wrestling fan, and if you're a wrestling fan, then you undoubtedly already know the outcome of these two individuals' lives, so I won't say anything about that. This was at WrestleMania 20, and the end of a 16-year journey for Chris Benoit to receive the recognition he had long deserved. His best friend, Eddie Guerrero, had a similar tale, and had won the WWE Title one month earlier. Even today, despite what became of Benoit, and what happened to Eddie, I still fight back tears when Benoit is handed the belt for the first time, turns around, and sees his best friend there to congratulate him.
"The Boyhood Dream Has Come True"
There is a large amount of people who think that Shawn Michaels is the single greatest professional wrestler of all-time. At WrestleMania 12, after coming out victorious in a 60-minute Ironman match with Bret Hart, he definitely staked his claim. There are very few men who can have as good of a match for that period of time, and I would count this match as the best Ironman match ever. There is no doubt that Shawn Michaels is a legend, and he took a big step toward cementing his legacy with this incredible match, and seeing how emotional he was after the win, capturing the WWE Heavyweight Championship for the first time, is something you don't see very often.
"GOOOOOLLLLLDBERG! GOOOOOLLLLLDBERG!"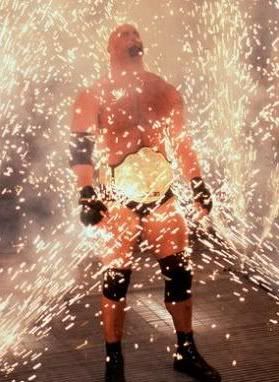 I was never a huge Goldberg fan. But over the years, I've become less close-minded, I now realize that Goldberg needed to happen. There needed to be a bulldozer who just destroyed his opponents. One thing that a lot of people not involved in the business don't understand is that becoming a huge superstar is as much about your character as it is your in-ring skills, and Goldberg's entrance was always a sight to behold. The pyro surrounded him, and as soon as it stopped, you would see him breathe the smoke out of his nose like a raging bull and let out a primal scream. His intensity was unmatched, and his entrance was the calm before the storm.
The Macho Man and the First Lady of Wrestling
The "Macho Man" Randy Savage is one of the greatest wrestlers ever, and as far as charisma goes, few could compare. Elizabeth, his wife, was the precursor to what you see as Divas today. At one point, they had parted ways, Macho Man turned heel, and all was wrong with the world. When Macho's new manager, Sensational Sherri, had turned her back on Randy, it was Liz who came back to claim her man, and the two were reunited. This was one of the most emotional moments in wrestling history, and the last time I recall seeing fans cry.
Part two of this series coming soon.